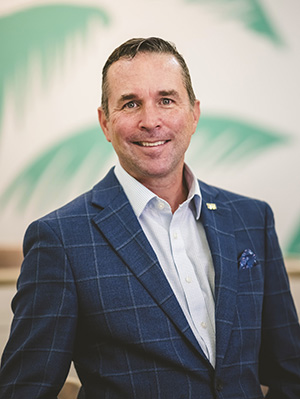 Brian P. Connors M.S., CHE, CSW
Assistant Teaching Professor; Senior Director, Global Food & Beverage Innovation; Founding Faculty Director, Bacardi Cen​ter of Excellence
---
Office: HM 340
Phone: 305-919-4514
Email: brian.connors@fiu.edu
Expertise: Beverage Program Development, Curriculum & Instructional Design, Training & Development, E-learning/Microlearning Models, Innovative Technology & Entrepreneurship - Segments: Cruise Ships, Hotel & Resorts, Mega Yachts, & Restaurants
Bio
Brian Connors is the Senior Director, Global Food & Beverage Innovation, and Founding Faculty Director of the Bacardi Center of Excellence at Florida International University's Chaplin School of Hospitality & Tourism Management. Brian works directly with industry and academia creating innovative solutions for operational training, concept development, and educational resources. 
As the Director of the Bacardi Center of Excellence, Brian has created the first-of-its-kind Bacardi Spirits Management Major, and developed and launched the virtual learning platform called BacardiTeach, and contributor to Future Proof. Hosts the popular industry-focused BacardiTalks series and 2 Barstools & a Knife Podcast. He also oversees the Bacardi Innovations Fund which launched Cecilia the world's first interactive robot bartender that received national media attention on NBC's Today Show, FOX & Friends, and international media coverage. He is also the lead faculty of the Beverage Management programs at the top-ranked Chaplin School of Hospitality & Tourism Management including the new wine studies and beverage entrepreneurship, brewing arts, and spirits management programs.   
Brian is the lead curriculum designer and facilitator for Accelerate Learning Systems, which customizes learning programs for Sandals Corporate University. Sandals Corporate University is the Sandals Resorts International adult education program for Caribbean nationals employed by Sandals Resorts, Beaches Resorts, and Grand Pineapple Beach Resorts.
He was the Wine & Beverage Consultant for Celebrity Cruises. In this role, he assisted in the development of their award-winning beverage programs and traveled the globe training the fleet of nine ships and one of the largest teams of Sommeliers in the world. 
Throughout his career, Brian has consulted to nearly every segment of the industry including independent and multi-unit restaurant groups, hotels, resorts, entertainment venues, private city, and country clubs, retailers of natural and organic goods, hospitality REITs, and the mega yacht industry.  He is regularly invited to speak nationally on topics such as innovative education, food & beverage trends, strategic marketing, and hospitality leadership.  Brian has developed nationally recognized, award-winning wine and beverage programs, and has appeared on the Travel Channel's 'Trip of a Lifetime' as well as national television and print media features.  
Brian earned his culinary degree from Johnson & Wales University, has trained for his Sommelier certification at the Culinary Institute of America in Napa Valley, and is certified by the Court of Master Sommelier.  He is also a Certified Specialist of Wine (CSW) through the Society of Wine Educators, International Bordeaux Wine Educator (IBWE) through The Bordeaux Wine Trade Council (CIVB), and a Certified Hospitality Educator (CHE) according to standards achieved through the Educational Institute of the American Hotel and Lodging Association.  Brian served as Alumni Admissions Ambassador at Cornell University for the School of Hotel Administration and was a board member of the Cornell Hotel Society. 

Brian has a Master's degree from the Rosen College of Hospitality Management at the University of Central Florida, and a Bachelor of Science from the School of Hotel Administration at Cornell University, which is a specialized business school in the SC Johnson College of Business at Cornell University.