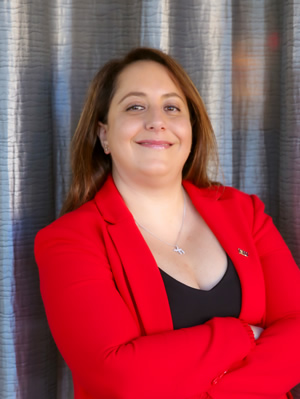 Rossy Ambe Cohen M.S.
Assistant Teaching Professor, Director of Food & Beverage Programs
---
Office: HM 158
Email: rambecoh@fiu.edu
Expertise: Baking and Pastry, Catering Management, Culinary Arts, Event Management, Kosher Cuisine, ServSafe Food Protection
Bio
Ms. Rossy Ambe Cohen is the Director of the Food & Beverage Program at the Chaplin School of Hospitality & Tourism Management (CSHTM) at Florida International University.
A native of Mexico, Ms. Ambe Cohen holds a Master's and a Bachelor's in Hospitality Management from Florida International University. Her career in the culinary industry began when she decided to pursue a degree in Pastry and Culinary Arts. During this time, Ms. Ambe Cohen worked in many positions in food service, ranging from Prep Cook to Executive Chef. While working as an Executive Kosher Chef, she developed innovative Kosher recipes using Classical French techniques to create new and exciting dishes. Ms. Ambe Cohen is passionate about teaching and wrote her thesis, entitled Hospitality Education Assessment: A case study on the learning experience of Chinese students in a 4-year program at a U.S. institution in an effort to understand the needs of Chinese students in an American program. She worked as an Instructor for FIU's Marriott Tianjin China Program from August 2016 to May 2017. In addition to managing the Food and Beverage Program, teaching and research responsibilities, Ms. Ambe Cohen provides Mentorship and Technical Assistance for StartUP FIU FOOD, an initiative focused on developing traditional and social entrepreneurship among students, faculty/staff, alumni and the South Florida community in the local food and beverage industry. This incubator program provides expert support, assistance and advice to South Florida's food entrepreneurs to help build and grow successful, long-lasting restaurant companies. As part of her work with StartUP FIU FOOD, Ms. Ambe Cohen has participated in multiple webinars and speaking panels such as the StartUP FIU Food Webinar: Level UP: Ways to Scale Your F&B Small Business.
Ms. Ambe Cohen has worked on multiple USDA FAS projects since 2015, such as Cochran Fellowship Program for Colombia – Gastronomy Education and Promoting U.S. Cuisine, Cochran Fellowship Program for Dominican Republic and Mexico – Postharvest Losses and Food Management System, Cochran Fellowship Program for Mexico and Venezuela – Restaurant Management Latin America and the Caribbean, Cochran Fellowship Program for Colombia- Discover American Cuisine and Media Tour, Cochran Fellowship Program for Philippines- Trends and Innovations in U.S. Food and Beverage Retailing, (PI)– Cochran Fellowship Program for Latin America and the Caribbean- Organized Retail and E-Retail, (PI)- Cochran Fellowship Program for Mexico, Nicaragua, Costa Rica and the Dominican Republic- Gastronomy and Restaurant Management, (PI).
To date, she has been awarded over $276,000 in USDA FAS Grants.
Ms. Ambe Cohen's research interests are in food service, entrepreneurship, and education