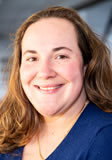 Celine Serret M.S.
Assistant Teaching Professor, Marriott Tianjin China Program
---
Office: C 401
Phone: 305-919-4500
Email: cserret@fiu.edu
Expertise: Commercial Food Production
Bio
Celine Serret, a graduate from Johnson & Wales University, North Miami has been in the culinary industry since 2012. Celine has had the opportunity to work in various sectors of the culinary industry, such as restaurants, hotels, and catering. During her time in the culinary industry, Celine was able to move from station to station, gaining experience and insight, thus becoming a well-rounded chef. Her passion and love for teaching began in 2013 as a Teaching Assistant for the College of Hospitality at Johnson & Wales University, under the mentorship of Brian Connors. Celine is currently a Chef Instructor and is responsible for the Introduction to Commercial Food Production, International Baking, Confectionary, & Desserts, and Global Food & Culture classes at FIU. Celine has an Associates in Culinary Arts, Bachelors in Food Service Management, and Master's of Arts in Teaching with a focus in Culinary Arts from Johnson & Wales University.