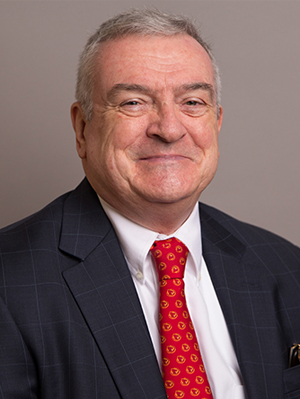 Dr. Robert H. Bosselman is Professor Emeritus from the Department of Apparel, Events, and Hospitality Management (AESHM) at Iowa State University ISU). During that tenure, Dr. Bosselman led the AESHM team to develop a new department organizational structure of three outstanding individual programs; Apparel, Merchandising, and Design; Events Management; and Hospitality Management. Under his leadership the department grew forty percent in overall enrollment; forty percent in research dollars received; number of research projects increased by twenty percent; and over four million dollars was raised for foundation accounts, including establishing two endowed professorships.
Prior to taking his ISU position in 2007, Dr. Bosselman served as Founding Director of the Dedman School of Hospitality at Florida State University (FSU). He also served as Director of the International Center for Hospitality Research & Development. In his FSU tenure, undergraduate enrollment, faculty publications, and funded research all doubled, and he raised three million dollars.
Prior to his service at FSU, Dr. Bosselman served as Professor and Assistant Dean at the Harrah College of Hotel Administration at University of Nevada Las Vegas (UNLV). He managed the master's degree program and assisted in the development of the doctoral program, drafting guidelines for admission, curriculum, and dissertation. He also served a term as Chair of the Food and Beverage Management Department at UNLV. During his tenure, a four-year culinary arts management degree program was introduced.
Dr. Bosselman began his academic career in the Department of Hotel, Restaurant & Travel Administration at the University of Massachusetts (UMASS). In addition to earning tenure and promotion to associate professor, he served as interim department chair. In this brief appointment as chair, he stabilized the program, eliminated debt, and raised $25,000 for the department from interested alumni.
Dr. Bosselman has remained active in the hospitality and tourism industries, offering counsel as needed. He is active in International Society of Travel & Tourism Educators (ISTTE), and ICHRIE, the leading association for hospitality education, serving as its President in 2005-2006. He also served as editor of the Journal of Hospitality & Tourism Research, the Journal of Hospitality & Tourism Education, and the Gaming Research Journal. He is the author of numerous journal publications, many with former graduate students. He is also the co-author of a text on hospitality education.
Dr. Bosselman has received approximately $1 million in externally funded research. Dr. Bosselman continues to work with graduate students as well as with former graduate students. Dr. Bosselman earned his doctoral degree in food systems administration from Oklahoma State University, his master's degree in hotel and restaurant administration from Florida International University, and a bachelor's degree in biology from University at Buffalo.
Dr. Bosselman currently resides in St. Augustine, Florida.