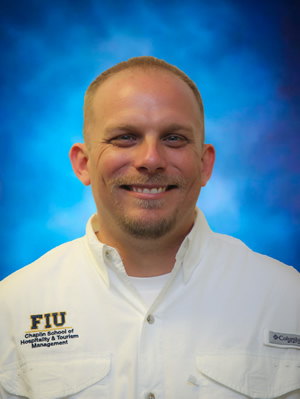 Nathan Dodge MBA
Associate Teaching Professor
---
Office: HM 337
Phone: 305-919-4127
Email: ndodge@fiu.edu
Expertise: Classroom Management, Data Analysis, Facilities, Quality and Revenue Management
Bio
Nathan Dodge, MBA, is an Assistant Teaching Professor for FIU's Chaplin School of Hospitality and Tourism Management, and one of the founding faculty for the Bacardi Center of Excellence. Professor Dodge began in the hospitality industry in 1995, joining Alamo Rent-A-Car while in college and staying in the car rental industry for more than 10 years working in reservations, revenue management, and international sales and marketing. During that time he graduated with both a Bachelors of Science and Masters of Business Administration from Lynn University in Boca Raton, Florida where he studied general business and hospitality management. He transitioned to facilities management, and then into a marketing position with a global engineering company. More recently Professor Dodge, along with Chef John Masi, and Professor Brian Connors host a hospitality podcast, 2 Barstools and a Knife, discussing industry trends, food, wine & spirits.
Professor Dodge has a passion for the hospitality industry, specifically as it relates to food and beverage. He guest lectures on spirits for a national sommelier group and other universities. He teaches many courses for the Chaplin School, including Revenue Management, Senior Seminar, Hotel/Lodging classes, and new courses in the Sprits Management Track. Professor Dodges, main love, besides his wife, is travel, and has hosted multiple study abroad programs including, Hospitality at Sea, Cuba, and London. With plans of taking students to Dubai, South Africa, Genoa, Scotland, and another Hospitality at Sea program.
Not only does Professor Dodge teach, he is also in charge of the Chaplin School academic schedule and has been able to improve the process so that faculty have a clear idea of their schedule and the students have a better path to graduation.