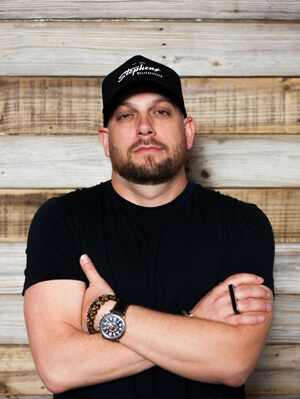 Bio
Matthew Kuscher, also known as "Kush", is the owner of LoKal, Kush, Vicky's House, Stephen's Delicatessen, La Cocina, and Kush by Spillover. LoKal was his first venture on his own, but he's been in the restaurant business since he was a young boy. Kush is a 3rd generation restaurateur—his father successfully owned several cafeterias and a Dunkin' Donuts shop for decades in Washington D.C. His grandfather owned restaurants and bars from the 50s through the 80s in New York and Broward County. After fifteen years of living the corporate life, he hung up his suit and tie and traded it for a T-shirt, jeans, and a life long dream of doing what he loves most—creating restaurant concepts. He is extremely passionate about buying local, and making sure his ingredients and products are top quality. To accomplish this, he visits all his purveyors' businesses to ensure they are aligned with his values.
Kush has visited and inspected several farms, such as Fort McCoy Ranch in Marion County, FL and is a proud supporter of grass-fed and free range farming. Other local partners he gushes about are Clewiston Farms in Clewiston, Florida (home of fresh Florida alligators for LoKal's famous Alligator Strips), and all the local breweries—they were some of the first to be part of Matt's vision. From the inception of his brainchild LoKal, sustainability was at the top of his list of priorities. This is evident in the upcycled decor and art murals which provide seating and visual aesthetics as well as waste management and recycling services provided to his establishments.
Born and raised in Washington D.C. to a Jewish father and Puerto Rican mother, Kush received his Bachelor's in Hospitality from Florida International University in 2000, and earned his chops while working for two industry leaders—Levy Restaurant Group and Hillstone Restaurant Group—but a lifetime of education imparted by his father has truly molded his success. His spent eleven years working at a number of east coast Houston's locations until finally landing in the Miami location.  Kush's philosophy is simple: "Give guests the freshest and best quality ingredients in a cool, clean environment; and always make them leave happier than when they arrived.