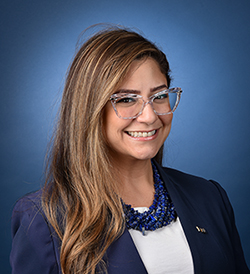 Cristina Loreto, MPA
Finance Manager
---
Office: HM204
Phone: 305-919-4550
Bio
Cristina was born in New Orleans, Louisiana and raised in Caracas, Venezuela. She received her Bachelor's Degree in International Relations and her Master's Degree in Public Administration from our very own FIU!
Cristina comes to the Chaplin School from FIU's Office of Auxiliary and Enterprise Development (AED), where she held the position of Financial Analyst since 2017, overseeing and managing over a $600M in expense and revenue budget for University – Wide funds.
In her new role Cristina will be supporting Dean Cheng in monitoring and analyzing all aspects of the financial performance of the Chaplin School of Hospitality & Tourism Management, including all auxiliary enterprises and off-shore academic programs. She will be working with executive team members of the Chaplin School as well as central administration to develop, interpret, and implement complex financial concepts and techniques related to strategic planning, budgeting, forecasting, and financial performance.
In her spare time, Cristina enjoys reading while having a glass of Châteauneuf-du-Pape, collecting rocks and quartz, knitting scarves, and playing with her nephews.  She enjoys food, and living by the motto that "I cannot say I don't like something until I have tried it, so I will try everything at least once!"