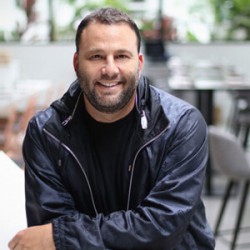 David Grutman
President, Groot Hospitality
---
Bio
A native Floridian, David Grutman is responsible for several of the most successful and world-renowned brands in hospitality and nightlife. In 2018, Grutman formed Groot Hospitality bringing all of his distinct trademark ventures under one umbrella. Groot Hospitality's portfolio currently includes LIV (2009), Story (2012), Komodo (2015), OTL (2017), Planta South Beach (2018), Swan and Bar Bevy (2018) and most recently Papi Steak (2019).
Grutman's influence on the hospitality and music world is global and his larger-than-life personality and natural ability to steal the spotlight has catapulted him into continued success and fame.
 In 2008, Grutman opened an internationally acclaimed LIV nightclub at Fontainebleau, forever making his name synonymous with nightlife and music. Grutman's 'buzz' style tactics and high-profile celebrity clientele made the cornerstone of his empire – LIV – the third highest-grossing nightclub in the United States. Grutman was hailed by Rolling Stone Magazine as the 11th most important person in Electronic Dance Music.
As a follow-up to the groundbreaking success at LIV, Grutman opened mega-club Story in 2013, again showcasing his unique energy to the nightlife scene.
In 2015, Grutman opened his first restaurant Komodo, a 600-seat restaurant in the heart of Miami's Brickell neighborhood. Komodo combines top food, atmosphere and a unique blend of energy that has helped take his worldwide lifestyle brand to the next level. In 2016, Komodo introduced a third level, Komodo Lounge, catering to after dinner guests and nightlife revelers making Komodo a complete evening destination.