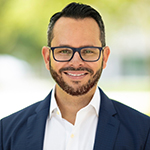 George Corton '03 MBA '14
Managing Principal, Westside Capital Group
---
Bio
Mr. Corton serves as Managing Principal of Westside Capital Group ("Westside"). He leads the business development division for the firm responsible for investor relations and strategic growth initiatives. Over the course of his 20-year career he has participated in fundraising campaigns that exceed $2 billion in capital raise. Westside is a real estate investment company with a diverse portfolio of multifamily and mixed-use assets and land in Southeastern United States in Florida, Georgia, and Alabama. Westside also has a multibillion development pipeline of multifamily and mixed-use assets on developable land it owns mostly in Florida. The company is actively pursuing investments in existing assets, real estate rich companies as well as land for development throughout the Southeastern, Mid-Atlantic and Sunbelt U.S. 
Prior to joining Westside, Mr. Corton served as the Chief Development Officer/ Vice President for Development & Innovation Philanthropy at Florida International University (FIU) in Miami, Florida, where he oversaw 36 development professionals and sat on the university's executive committee. At FIU he led his team to record-breaking annual fundraising totals (over $114 million in the fiscal year 2020-2021) as part of a successful $750 million campaign. Leading the way, Corton secured the largest alumni gift in FIU history—a gift exceeding $10 million from alumnus Chad Moss '94, to name the Moss School of Construction. Corton also helped found the historic CasaCuba initiative, a Cuban cultural heritage center at FIU.  
Prior to FIU, Corton served as the Senior Director of Development at the University of Miami (UM) School of Business Administration and was part of the Momentum Campaign, which raised over $1.4 billion for the university During his tenure at UM, Corton worked to establish the School's Founding Board of Overseers with members from across the country, such as Jorge Mas, Marvin Shanken and the late David Komansky. He strengthened the Business School's international reputation and visibility by hosting events and engaging alumni and parents across Europe and Latin America. Corton was also a key member of the core team that brought a full onsite MBA program to the island of Puerto Rico. 
The son of Cuban immigrants, Corton was born in New Jersey and raised in Orlando, Florida before coming to Miami in 1998. He graduated from FIU in 2003 and returned to complete an MBA in 2014.  Building on this diverse background, Corton cofounded the FIU Foundation Office of Inclusive Philanthropy, which brings together development professionals and community and industry partners to inform, implement, and evaluate philanthropic strategy and programming that promotes systemic change.  Aside from work, Corton also serves as the secretary of the oldest Latino nonprofit in New York, Casita Maria Center for Arts & Education and a member of the FIU Chaplin School of Hospitality & Tourism Executive Advisory Board. He is a proud member of the Council for Latino Workplace Equity and was chosen as a "Top Latino Leader" at their Second-Annual National Latino Leadership Conference in 2016.