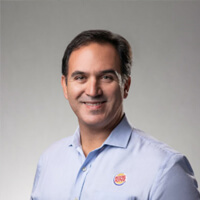 Jose Cil
Chief Executive Officer, Restaurant Brands International
---
Bio
José E. Cil is Chief Executive Officer (CEO) of Restaurant Brands International Inc. (RBI) and has set out to build the most loved restaurant brands in the world: BURGER KING®, TIM HORTONS® and POPEYES®. He brings to the role a 20-year track record of results-driven leadership at Burger King, most recently serving as Global President. Today, RBI generates $32 billion in system-wide-sales, offering an exceptional guest experience in each one of its 27,000+ restaurants in more than 100 countries and territories.
José was formerly on the board of directors for Carrols Restaurant Group, Inc., Burger King's largest franchisee and served as Co-Chairman of the Burger King McLamore Foundation, an organization that creates brighter futures through education and emergency relief. He is also an active member of the Florida Council of 100, a group dedicated to promoting the economic growth of Florida. Earlier in his career, José held the position of Vice President and Regional General Manager for Wal-Mart Stores, Inc. in Florida.
He is a graduate of Tulane University and started his career practicing law after earning his Juris Doctor degree from the University of Pennsylvania Law School.