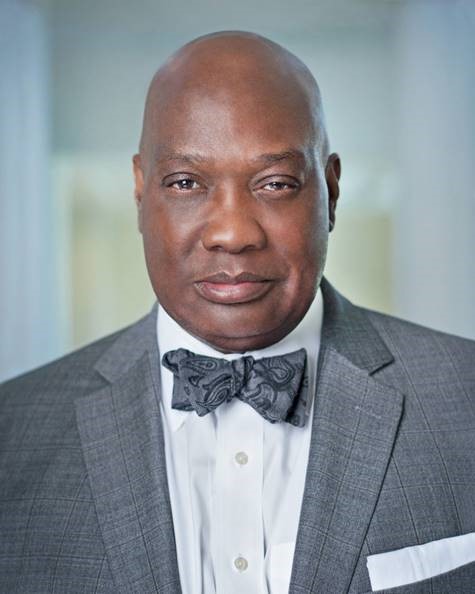 Regynald G. Washington '74
---
Bio
Regynald is the former President of Paradies Lagardère Travel Retail Dining Division. The Dining Division operates in 43 airports with 190 locations and 80+ concepts/brands in its portfolio. Prior to the Paradies Lagardère acquisition of Hojeij Branded Foods, Regynald served as a Morgan Stanley Private Equity portfolio CEO, member of MSPE/HBF board of directors, and equity partner.  Regynald's responsibilities included leading Hojeij Branded Foods an Atlanta-based restaurant company which operated 120 restaurants in 38 airports in the United States.  HBF had over 45 popular and widely recognized brands in its portfolio. Some of those brands included; P.F. Chang's, Vino Volo Wine Bars (50 locations), Gordon Biersch, Celebrity Chef Cat Cora's Kitchen, Plum Market, Atlanta Hawk's Bar and Grill, Longhorn Steakhouse, Chick-fil–A, Coffee Bean & Tea Leaf, Qdoba Mexican Grill, Pei Wei, Zingerman's, Low Country by Celebrity Chef G Garvin, Pinkberry, The Plant Café Organic, Piece of Cake and Margaritaville just to name a few. 
Regynald spent 12 years of his career with the Walt Disney Company. Regynald was Vice President of Food and Beverage for Walt Disney Parks and Resorts globally (Walt Disney World Parks and Resorts, Disney Land California, Disney Land Hong Kong, Disney Land Paris, Disney Land Tokyo, and Disney Cruise Lines). Regynald served as Vice President and General Manager for Disney Regional Entertainment, where he had responsibility for the strategy and direction of Disney's ESPN Zone sports entertainment and food and beverage brand, based in Burbank, California. Prior to Regynald's Disney Regional Entertainment role, he was Director of Resorts Food and Beverage Operations for the Walt Disney World Company in Orlando, Florida, where he was responsible for all resort food and beverage operations. Previously, he was the General Manager, Food & Beverage for Epcot's massive dining portfolio. 
Regynald has occupied significant industry leadership positions, notably as a member of the board of directors and elected chairman of the board of the National Restaurant Association, whose membership included 878,000 restaurants and foodservice outlets.
Washington's previous experience includes ascending through the corporate ranks of Concessions International, Inc., an airport food service company operating food & beverage, gift & news, and duty-free operations in U.S. airports based in Georgia. Regynald directed the overall operations as Corporate Executive Vice President. Washington is a graduate of Florida International University, holding a BS degree in International Hotel & Restaurant Administration. He has earned dual certification as a Foodservice Management Professional through the National Restaurant Association Educational Foundation and as a Certified Food & Beverage Executive, a credential issued by the Educational Institute of the American Hotel & Lodging Association.
 Recognitions, Current Boards and Former Boards
Regynald is currently a founding member and active board member of Seven Oaks Acquisition Company, a publicly-traded Nasdaq Special Purpose Acquisition Company
Regynald is a former advisor to the private equity board, (Tamarix Capital), major investment group for Playa Bowls Restaurant Company and currently sits on their Board of Business Executives.
Regynald was named the top Foodservice Operator of the year in 2019 by the International Foodservice Manufacturers Association (IFMA). This resulted in Regynald being awarded the Gold Plate Award at the 65thannual Gold & Silver Plate Awards Celebration in Chicago, Illinois on May 18th, 2019
Regynald was honored with the Lifetime Achievement Award by the Georgia Restaurant Association. Regynald received the award during Georgia Restaurant Associations annual GRACE Awards in August 2019
Regynald gifted $1M dollars of his personal funds for an endowment and scholarships for Georgia State University's Cecil B. Day Hospitality School. The Master's program is now named: "The Regynald G. Washington Master of Global Hospitality and Management Program"
Member of the Georgia State University Foundation Board of Trustees
Member of the Board of Trustees for the Culinary Institute of America
Dean's Advisory Board Member of the Chaplin School of Hospitality Management, Florida International University
Recipient of the Outstanding Achievement Torch Award, Florida International University 2006
Delivered 2018 Commencement Address for Florida International University's Doctoral, Masters and Undergraduate programs
Honorary Alumnus, J. Mack Robinson College of Business, Georgia State University
Honorary faculty member, Michigan State University School of Hospitality Business
Former Member of the Board of Director of the California Chamber of Commerce
Named one of Top 50 Taste Makers in the restaurant industry in America by Nation's Restaurant News
Former President of the Georgia Restaurant Association under the umbrella of the Georgia Hospitality and Travel Association
Served as Chairman of the Georgia Restaurant Association Political Action Committee
Named a Conti Lifetime Professor (an endowed chair), School of Hospitality Management, Pennsylvania State University 
Recipient of Georgia Restaurant Association's 2016 GRACE Award
Member of the Board of Directors of the Chicago Sinfonietta
Inducted into the College of Diplomats of the National Restaurant Association Educational Foundation