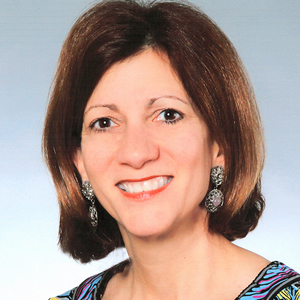 Wendy Kallergis
President & CEO, Greater Miami & The Beaches Hotel Association
---
Bio
Wendy Kallergis works closely with various tourism and hospitality partners to continue to grow Miami as a top-tier worldwide travel destination. The GMBHA is a membership-based organization comprised of 160 hoteliers and 300 allied members across Miami-Dade County. The association's goal is to unify the travel, tourism and hospitality industry with business and government leaders locally, nationally, and internationally in order to enhance the visitor experience through education, advocacy and networking.
Kallergis and her team work closely with the hospitality schools' internship and training programs to provide jobs locally for graduates. The GMBHA Sustainable Hospitality Council is spearheading best practices in sustainability to include implementing the Florida Green Lodging Program Certification. The GMBHA's partnership with the National Immigration Forum's New American Workforce has received national recognition by helping hospitality employees become new American citizens. Kallergis was recognized as a White House Champion of Change October 22nd, 2014 for promoting citizenship in the workplace.
Kallergis was born and raised in Maine and grew up with a love for food and cooking as part of a restaurant family. After earning a B.A. in French Language from George Washington University, she immediately set out to France. There she attended the University of Paris earning a degree in French history, language and art followed by the prestigious Cordon Bleu L'Ecole de Cuisine earning a Diplome French Cuisine. She subsequently concluded her studies at the Modern Gourmet Cooking School in Annecy, France with a Diplome Professional Chef and Diplome Professional Teacher.
Upon returning to the United States, Kallergis continued her career in the culinary arts as a Chef Garde Manger in Restaurant Nora in Washington D.C. then as Executive Chef of Finesse Fine Foods, an off-premise Catering & Prepared Foods Boutique, also in Washington D.C. that catered many events at the Smithsonian and pre-inaugural dinner for Ronald Regan.
Kallergis resides in Coral Gables with her husband, Nick, and 2 children; Nicholas, 26, Assistant City Attorney, City of Miami Beach and Katherine, 23, Reporter, The Real Deal
She serves on the following Board and organizations:
Black Hospitality Initiative of Greater Miami Board of Directors
Greater Miami Convention & Visitors Bureau Board of Directors
FIU Chaplin School of Hospitality Management Industry Advisory Board of Directors
Greater Miami Chamber of Commerce Board of Directors
Academy of Hospitality and Tourism Board of Directors
Miami-Dade College Culinary Institute Business Advisory Council
Active member of Les Dames d'Escoffier
Member International Women's Forum, Miami Chapter